Meet newest CRMC Council Member Joy Montanaro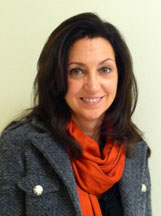 The Coastal Resources Management Council's newest Council member says that more than a decade on her city's zoning board still didn't prepare her. Cranston resident and dental hygienist Joy Montanaro served a four-year term and then two, five-year terms on the Cranston Zoning Board (12 of those years as the chair) prior to being appointed to the CRMC Council in the fall of 2013, but serving on the Council and witnessing the complexity of coastal zoning issues was a surprise.
"I was still totally overwhelmed – I'm not going to say I wasn't," she said during a recent interview. The time she spent serving at the city level did provide her with a certain professional instinct, however. "I will say that being on the zoning board for so long teaches you to rely on your staff and experts. You have people who are unbiased and not paid for by the applicant.
"The most important thing I learned being on the zoning board was to trust your instincts, trust your own knowledge," she added. "And you live in the environment, so it's not like making a decision based on a place you've never been. [The CRMC is] very similar and it's taken some of the anxiety away. You're never going to learn the entire Red Book but you can refer to it."
Montanaro, who got a biology degree from the University of Rhode Island and an applied science Associates Degree from the Community College of Rhode Island, and has worked in the dentistry field as a hygienist for more than 20 years, said she quickly acclimated to the synergy between the CRMC Council and its professional staff of engineers and biologists.
"The staff does a great job of spelling it out for us, and the (agenda) packets are extremely helpful," she said.
When asked how she got involved in public service, Montanaro admits it was a Rhode Island thing: the member she replaced was a neighbor who had decided to run for Cranston City Council. At the time, Montanaro's husband was a state representative, and encouraged her to vie for the newly vacant seat.
"I was interested in zoning, and wondered if I could run." During her time on the board, Montanaro said she heard a number of contentious applications, and that the process appealed to her.
"It's interesting to see how that all works itself out, and how you can be a liaison to making that happen," she said. "You meet some great people. Over the years, we could see the economy had changed things drastically. You saw the transitions in the city. It was a different way of looking at everything coming to us."
When she's not working at Rhode Island Dental Arts, where she's been for nearly a decade, Montanaro travels with her family: two sons and two nieces. She also logs many hours watching her kids play hockey.