CRMC adopts fifth Clean Marina
May 8, 2017, WAKEFIELD – The RI Coastal Resources Management Council (CRMC) on May 5, 2017 designated New England Boatworks in Portsmouth as a Clean Marina under its statewide Clean Marina Program, the fifth and largest marina to receive this designation.
New England Boatworks (NEB) has been in operation since 1988, and includes a boat-building division that produces custom, state-of-the-art sail and power yachts at its 28.75-acre operation. It boasts a full-service marina offering long-term and transient berths for yachts in its 8.5-acre boat basin, along with complete refit and repair services, and a haul-out and storage facility.
NEB joins four other marinas that have already been designated as Clean Marinas: Allen Harbor Marina in North Kingstown (the first to be designated), Point Judith Marina on Point Judith Pond in Narragansett, Ram Point Marina on Point Judith Pond in Wakefield, and Conanicut Marine Services, Inc., in Jamestown, which was designated in 2013.
"As a coastal management program, we are a regulatory agency in this state, but what we've found is that regulations only carry us so far," said CRMC Executive Director Grover Fugate, who presented NEB with its Clean Marina certificate. "We achieve much more when we enter into partnerships with the industries in these areas. The Clean Marina program is an example of that type of partnership."
The CRMC adopted the Clean Marina Program in February 2007; the voluntary program is designed to reward marinas that go beyond regulatory requirements by applying innovative pollution prevention best management practices (BMPs) to their day-to-day operations. Program partners include the R.I. Marine Trades Association (RIMTA), RI DEM and Save The Bay. These groups and the CRMC comprise a team that evaluates each marina applying for the Clean Marina designation. As a clean marina, NEB received a special plaque recognizing its status and flags showing the Clean Marina logo.
NEB has also taken the additional step of working with Clean Ocean Access to install a Trash Skimmer at its fuel dock. The Skimmer, funded by 11th Hour Racing, reduces marine debris and generates public awareness about types of debris found in the water. Two identical Skimmers placed in Newport Harbor collected more than 6,000 pounds of debris in only four months.
"Everybody who sails competitively knows how to do a man overboard drill. Man overboard drills have been done for generations by competitive sailors," said Senator Sheldon Whitehouse. "Now Charlie [Enright] and the rest of the Volvo Ocean Racing crew have to learn keel-clearing drills because they found that even hundreds of miles away from land, they would scoop up with their keel enough waste plastic to affect the performance of their exceptionally high-performance boat."
As part of this program, a Rhode Island Clean Marina Guidebook and self-assessment checklist serve as tools to assist marinas toward becoming RI Clean Marinas, a designation that certifies marinas, boatyards and yacht clubs that have voluntarily exceeded regulatory requirements and have adopted measures to reduce pollution, and recognizes them as environmentally responsible businesses. Program information is available on the CRMC web site at http://www.crmc.ri.gov/marinas.html. A Clean Marina pledge requires that marinas striving for this designation pledge to do their part to keep the state's waters free of harmful chemicals, excess nutrients and debris. It also states that the marina owners will identify opportunities and implement practices to control pollution associated with vessel maintenance; fueling; sewage handling; storm water management; and facilities management. The marina, once a pledge is signed, must implement the pollution prevention practices within one year and apply to the CRMC for the designation as a Rhode Island Clean Marina.
"Clean water and a sustainable environment are vital to your industry – you guys know that more than anyone else," Fugate said to the crowd, which included many NEB employees. "The Clean Marina Program represents a commitment to clean water and our environment. It is not an easy designation to get; there are very few marinas in RI that actually have the Clean Marina designation, so congratulations on making that hurdle."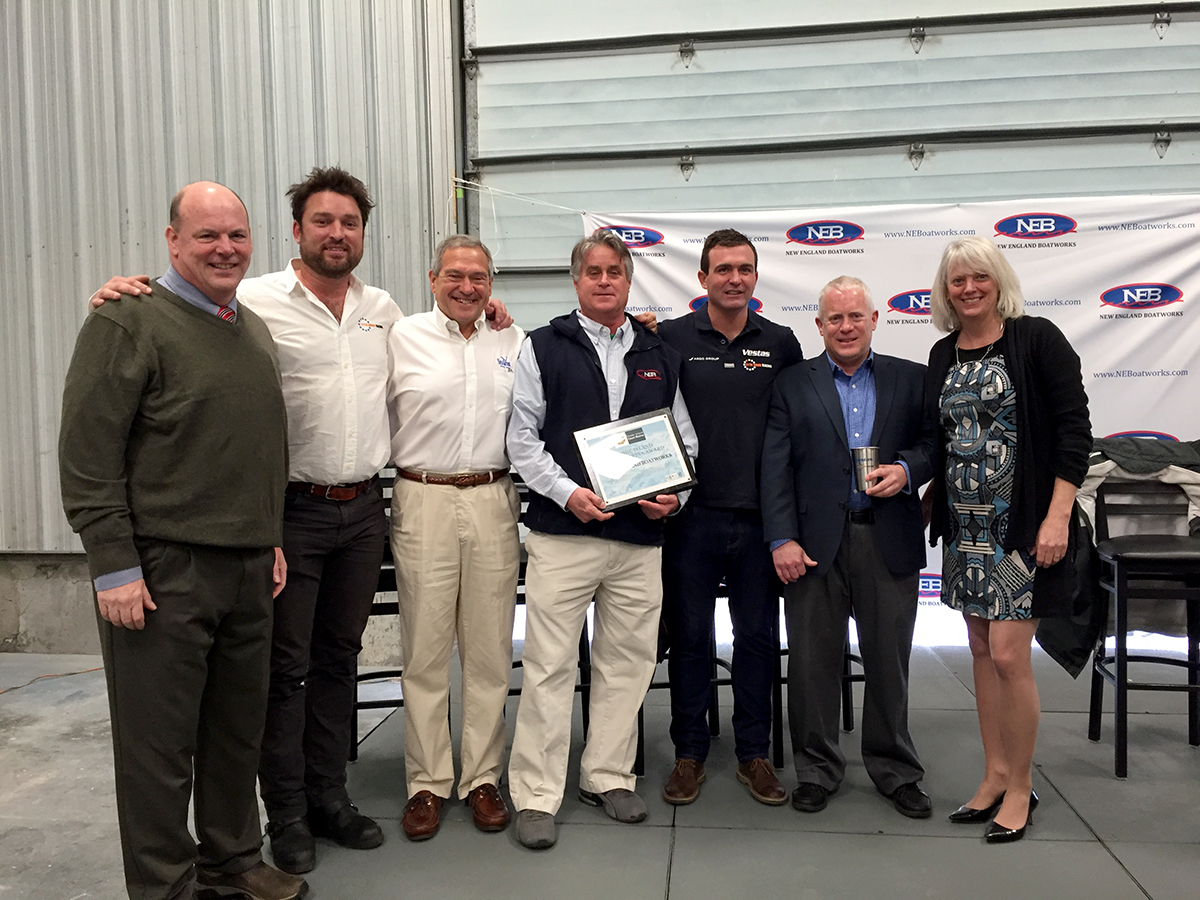 (From L to R) CRMC Executive Director Grover Fugate; Jeremy Pochman, co-founder and director of 11th Hour Racing; Rhode Island Sea Grant Director Dennis Nixon; Tom Rich, owner of New England Boatworks; Charlie Enright, captain of Volvo Team Vestas 11th Hour Racing; Dave McLaughlin, co-founder and executive director of Clean Ocean Access; and RI Department of Environmental Management Director Janet Coit gather to celebrate NEB's recent designation as the state's fifth Clean Marina under the CRMC's voluntary Clean Marina Program. (Photo by CRMC)