CRMC holds first aquatic invasives conference
September 5, 2012, WAKEFIELD – Did you know that Chinese Mitten Crabs exhibit strange reactions to electricity? All of their legs fall off, making them easy to catch. Did you know that Lionfish are edible? Did you know that ballast water is one of the biggest threats to the world's oceans and biodiversity?
The first Marine and Estuarine Aquatic Invasive Species conference, held recently at the Coastal Institute at the University of Rhode Island's Bay Campus by the Rhode Island Coastal Resources Management Council (CRMC), featured discussions on topics including the global reach of aquatic invasive species (AIS); the marine AIS effort in Rhode Island; the Lionfish invasion from the Caribbean Sea to the North Atlantic Ocean, and the Chinese Mitten Crab in the Hudson River estuary. An afternoon workshop wrapped up the day and focused on creating an "early detection/rapid response network to monitor for and respond to the threat of AIS in Rhode Island's coastal ecosystem.
According to Dr. James Carlton of Williams-Mystic College, invasions are invasions, no matter how long ago they occurred. Invasive species do not become native or naturalized, even after hundreds of years. An understanding of "historical invasions" is critical for interpreting community and ecosystem history, he said. This knowledge is the basis for ecosystem conservation and management.
Different vectors (modes of invasive species introduction) can include large and small, obvious and seemingly-benign: ships, drydocks, oil platforms, seaplanes, or even boots. Often, humans directly cause the invasion through eating non-native species, growing them, releasing them, or using them as bait or pets. The number of these vectors, Carlton said, doubles every century.
One of these invaders, the Chinese Mitten Crab, was first found in the Hudson River in 2007, is native to eastern China and North Korea. It lives in fresh water and adults will travel to saltwater environments to spawn, which makes it a threat to both aquatic environments.
According to Robert E. Schmidt from Bard College at Simon's Rock, the crab eats constantly, and its diet is indiscriminate. It has been documented as an alien species in Europe, in California since the 1990s, in the Chesapeake Bay since approximately 2005 and also in the Great Lakes and St. Lawrence River. There was a crab sighting (one was identified on a fish ladder) in Connecticut in 2012.
The Lionfish, another alien species establishing a presence in the U.S., was spotted off the Atlantic coast of Florida in 1999. Charles A. Jacoby, of the Indian River Lagoon National Estuary Program, said that there is potential for the Lionfish to establish all along the eastern coast, from South America north to Canada.
The fish eats and competes with commercial, recreational, threatened and endangered species, Jacoby said. They've also been known to sting divers and have drastically altered the native biodiversity in the habitats they invade.
So what can we do?
According to Jacoby, the fish are edible and lobster traps are successful in catching them. In order for manual removal to be successful, 27 percent of the population needs to be removed each month to have an impact, he said. Removing juveniles increases this success. Prevention is by far the best solution, Jacoby said, but it's not easy. Lionfish owners must be aware: never set your Lionfish free! In this case, one fish in the ocean does matter.
Kevin Cute, marine resources specialist for the CRMC, said that the Rhode Island Aquatic Invasive Species Management Plan includes developing a long-term monitoring program which will include rapid assessment surveys and volunteer monitoring programs. This will ensure coverage of Rhode Island's coastal systems in order to monitor the introduction and spread of AIS in the state's waters.
Under the CRMC, there are floating dock monitoring programs, where sites are sampled regularly. Monitoring sites are established at Port Edgewood Marina (Save The Bay), Roger Williams University, Allens Harbor Marina, Fort Adams State Park and Point Judith Marina. The CRMC will also develop an Early Detection Rapid Response network for marine invasive species. The Council is working with the U.S. Environmental Protection Agency to determine feasibility of using an unmanned underwater vehicle to monitor for AIS in eelgrass beds. The CRMC has also coordinated an initiative between the U.S. Coast Guard and Dr. Bryan Wysor of Roger Williams University to monitor ballast water using a laboratory technique that can confirm the presence of AIS and other organisms by detecting their DNA.
The CRMC has been monitoring for aquatic invasive species since the Rhode Island AIS Management Plan was approved in 2007 by the federal Aquatic Nuisance Species Task Force. The plan supports long-term monitoring for AIS in the state's marine ecosystems and provides for actions to prevent the introduction of aquatic invasive species, control their impacts and eradicate those already present whenever possible.
Consistent with national goals, the plan encourages the development of an Early Detection Rapid Response (EDRR) network that includes monitoring and an organizational framework to provide resources to minimize the impacts of invasives. Attendees will be taking part in the creation of Rhode Island's first aquatic invasive species EDRR network.
A new logo for the monitoring program was also unveiled at the conference, the winning entry from its conference design contest. The CRMC chose a logo submitted by professor and graphic designer Karyn Jimenez-Elliott, who will receive a $500 gift card for her winning entry. The logo will be used in all future AIS monitoring program materials and merchandise.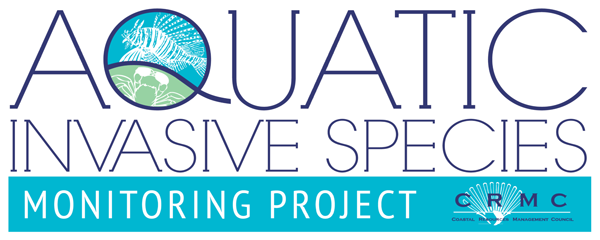 For more information on the CRMC's AIS program, go to http://www.crmc.ri.gov/invasives.html.