Meet new CRMC Chair Jennifer Cervenka
PROVIDENCE – For Jennifer Cervenka, the new chair of the R.I. Coastal Resources Management Council, respect for the law and the environment – which lends itself well to her new post as head of the CRMC Council – is in the blood.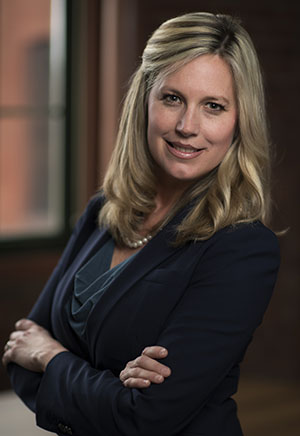 "When I see the ocean, I think of home," said the Oahu, HI native one recent morning, after speaking on behalf of the Council at an opening of a new Urban Coastal Greenway under the CRMC's program of the same name. Cervenka was appointed in June as the new chair.
"I'm impressed by the importance of what we're doing and it doesn't intimidate me, but does give me pause," she said. "I know I have to read through every piece of paper; this is a public role, these are people's lives. I'm impressed that these have ramifications farther than a few cases. I do feel a seriousness of purpose."
Born in Memphis in a naval hospital, Cervenka moved to Oahu when she was one, where her father served as an attorney in the Navy Judge Advocate General's Corps (JAG). Six years later, he retired, and opened a private practice. Cervenka graduated from the University of California at Santa Barbara in 1992, and then returned to Hawaii for her law degree, which she earned in 1995 from the University of Hawaii's William S. Richardson School of Law.
"I joined my dad's law firm out of law school, as was planned, and then I had island fever and moved to D.C.," Cervenka said of her years in school. Once there, she attended American University's Washington College of Law and graduated in 1999 with her LLM (Master of Laws) in Environmental and Business Law.
Cervenka said she developed a passion and interest in environmental law during her third year of law school at the University of Hawaii, where she took part in the Phillip C. Jessup International Law Moot Court Competition, the world's largest moot court competition, with participants from more than 645 law schools in 95 countries. The competition is a simulation of a fictional dispute between countries before the International Court of Justice, the judicial organ of the United Nations.
"I represented a fictional third-world nation against a first-world nation because one was allegedly polluting the other, and I loved doing that," she said. "When I started practicing law, I didn't want to be far away from the moot court, so I ran a couple of regional competitions out of the law school. I met all of these people from around the world through this, and it led me to the Masters of Law program in D.C."
During her time in Washington, Cervenka also worked for the Department of Justice in the Environmental Resources Division, and at the U.S. Environmental Protection Agency from 1998-1999 as an intern. While there, Cervenka met her soon-to-be spouse, who suggested a move to New England, where he was starting a business. Cervenka passed the Rhode Island and Massachusetts Bars in 2000 and began working for the firm of Holland & Knight, before moving to Partridge, Snow & Hahn in 2006. While there, Cervenka specialized in land use and environmental law and litigation, and was a partner from 2009 to 2017. This past March, Cervenka and four other female attorneys – all from top law firms in Rode Island – opened their own law firm in Providence: Cervenka Green Ducharme Antonelli, LLC (CGDA).
Cervenka said she thinks her understanding of environmental law will lend itself well to her position as the chair of the CRMC Council, one that sees complicated, sometimes controversial applications and enforcement matters come before it.
"I'm hoping that I, one, understand the applications," she said. "There's a certain level of understanding that's critical for the chair. Two, I'm hoping I can add value in eliciting pertinent information so I can assist the full board if it's needed while working through applications.
"For me, being a lawyer interpreting regulations and law all the time, it's really important for me to go back to (R.I.) Coastal Resources Management Program and the management procedures – those are our bibles – and follow those. It engenders a trust in the system, gets respect from the public, and when people come before you, it provides a certain level of predictability," Cervenka said.