Coastweeks 2019: trash skimmers, monitoring, sea level rise, and salt marshes
Due to expected rain, the Coastweeks event "Coastal Resilience in the Urban Landscape: A Walking Tour" in Providence has been postponed to Tuesday, October 22, from noon - 2 p.m.
September 12, 2019, Wakefield – The Rhode Island Coastal Resources Management Council (CRMC), and Rhode Island Sea Grant and the University of Rhode Island's Coastal Resources Center invite all interested environmentalists-in-training to take part in hands-on environmental education and stewardship as part of this year's Coastweeks events.
Coastweeks 2019: A Celebration of the Coast, which runs from September 20 until October 10, is dedicated to fostering awareness, understanding and improved management of the coast.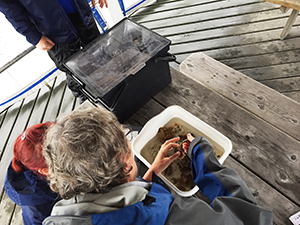 On September 20, CRMC's Marine Resources Specialist Kevin Cute will lead a training session on aquatic invasive species monitoring at Fort Adams in Newport at 9:30 a.m. URI's Providence campus will be featuring a panel presentation on the university's climate science research on September 26 at 7 p.m. at Paff Auditorium. Clean Ocean Access and the City of Newport will be giving a trash skimmer tour on Monday, Oct. 7 at 5:30 p.m. at Perrotti Park in Newport. Tour Quonochontaug salt marsh in Charlestown on October 2 at 9 a.m. with CRMC's Caitlin Chaffee, policy analyst and project manager for the habitat restoration and elevation enhancement the CRMC recently completed at the site. The Barrington Public Library will also be airing the Emmy-nominated short documentary, "One Day…A Story of a Storm" about the hurricane of 1938, on October 10 at 6:30 p.m. The CRMC's Janet Freedman and CRC and RISG's Pam Rubinoff will also lead a walking tour along South Water Street with stops at the hurricane barrier, the new pedestrian bridge, and surrounding areas on October 11 beginning at 11 a.m. Free parking is available in the RI Department of Transportation lot under the bridge, south of the barrier and under the highway.
For a full detailed listing of the Coastweeks events, click here: https://seagrant.gso.uri.edu/special-programs/coastweeks/. Pre-registration is required for some events.