Aquaculture training brings users, conflicts into focus
November 28, 2019, NARRAGANSETT – A first in a series of meetings brought aquaculturists, regulators, and town officials together to discuss user conflicts, and the process of permitting the state's shellfish aquaculture leases.
Held on November 19, at the University of Rhode Island's Graduate School of Oceanography, officials from the Towns of Charlestown, Narragansett, and South Kingstown, the R.I. Coastal Resources Management Council (CRMC), and growers discussed each side of the user conflicts that the industry brings to Rhode Island.
"We have industry leaders from throughout the state that are here to share information and also, we hope, allow for a discussion, looking at the state and where the state is with aquaculture, but also recognizing that things vary by town," said Azure Zigler of URI, who facilitated the workshop. "This is a chance to go on a learning adventure together and build relationships."
According to University of Rhode Island Graduate School of Oceanography Dean Bruce Corliss, there was a clear need to do a statewide assessment of aquaculture, and to address some of the issues in the industry. This is the first in series of talks and events that will run through until next fall, he said at the meeting.
"We got everybody together here because we know that we are sharing the Commons, and it's a privilege for us to share the Commons," said Matt Behan, owner of Behan Family Farms and president of the Ocean State Aquaculture Association. "Everybody wants to be good neighbors. There haven't been a whole lot of issues, and I think that the permitting process is pretty good. People that have their farms are generally doing pretty [well] without a whole lot of user conflict problems, but we want to make sure that stays the case."
"Probably the biggest takeaway from this talk is that we want everybody to get on the same page where the potential problems are or issues or comment that come from the town side, we as farmers want to know so we can detail our operations to make everything copacetic."
Rhode Island currently has 81 aquaculture farms with a total of approximately 339 acres leased and farmed.
Dr. Robert Rheault, executive director of the East Coastal Shellfish Growers Association, provided an East Coast picture of the aquaculture industry. Of the 1,300 farms from Maine to Georgia, Rheault said the production varies widely, and is largely dependent on the regulatory framework in those states.
Some states like Georgia have essentially made it impossible to get an aquaculture lease; other states like Virginia are very pro-aquaculture and have developed a large industry, he said. Collectively, most farms are small operations with less than 10 employees, harvesting $170 million, most of it oysters. Annual industry growth is five to 10 percent, Rheault said, and oyster production has doubled in the last five years.
"We have one of the lowest carbon footprints of all," he said. Citing a recent presentation he saw, Rheault added, "If we were to get Americans to stop eating 10 percent of their beef and eat shellfish instead, we'd have the equivalent impact of taking 100 million cars off the road."
While Rheault touted the environmental and water quality benefits of shellfish aquaculture, he acknowledged that there must be a balance between all uses of the coastal ponds.
"A large portion of aquaculture is going on in Point Judith Pond and in Charlestown (Ninigret) Pond, and that's because the ponds provide great protection from storms, and the food in the water for the oysters is very rich," he said. "But we also have those [ponds] that are the most intensely in-demand for recreational use.
"So the challenge we find is trying to find a balance that works for everyone," he added.
Gear in the water
Types of gear used in the aquaculture industry have recently caused conflicts; floating cages grow oysters best, Rheault said, but are the most visible, versus growing oysters on the bottom or suspending cages or bags in the water column.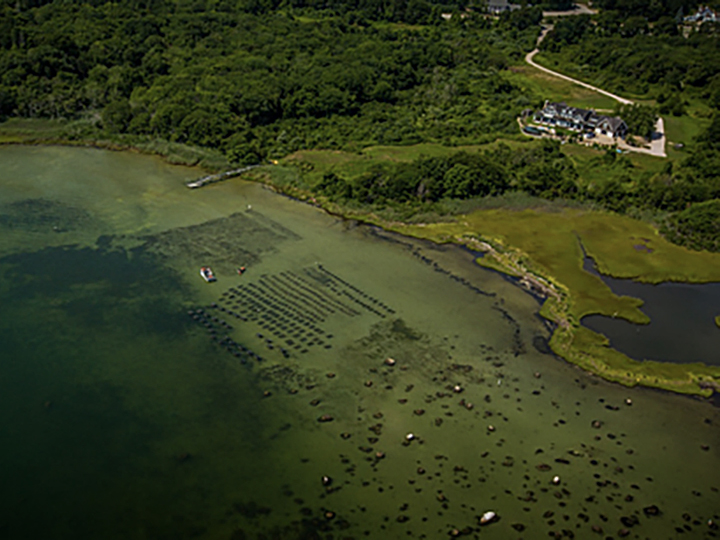 Rack and bag is the most common method, Rheault said, and is used to grow oysters suspended in the water column. There are different sizes and shapes to the bags and cages that can be used either suspended or on the bottom, he said.
"You flip the cage up and let the oysters in the cage dry out in the sun and then you flip them back down, and all the dead, fouling material gets eaten by the fish and sloughs off," Rheault said. "Then in winter you can remove the float caps and sink them to the bottom so the ice doesn't carry them away."
The floating gear offers many benefits, Rheault said. It's the most efficient way of de-fouling the cages, they're easy to maintain, and the growers get higher survival rates and better meat quality than they do with other methods and equipment.
"The challenge is that floating gear is a sort of navigation hazard, and it is in your face, and so it has created permitting challenges up and down the coast," Rheault said, adding that his nightmare is that everyone wants to use floating gear, and no one wants to look at it.
The permitting process
David Beutel, CRMC aquaculture coordinator, went through the agency's regulatory process and status of the salt ponds. The review process is very thorough, and needs to be, he said.
"Aquaculture in Rhode Island is almost entirely conducted on state submerged land, so it belongs to all of us," Beutel said. "We want to apply a lot of scrutiny, to make sure people are involved and that we get the best result we can. It doesn't mean it's always perfect, but we do try."
The process begins with a preliminary determination, where the prospective aquaculturist submits to CRMC a complete application. The CRMC works with the town and other state and federal agencies and stakeholders to review this preliminary determination to identify any issues that might come up during the formal review process. Then Beutel makes a recommendation to the applicant to revise the application as needed, and that might include not applying for the lease, he said. The PD might uncover necessary modifications to the application in order for it to proceed; and sometimes the application looks acceptable and can proceed, he said. (This third possibility does not happen often, according to Beutel.)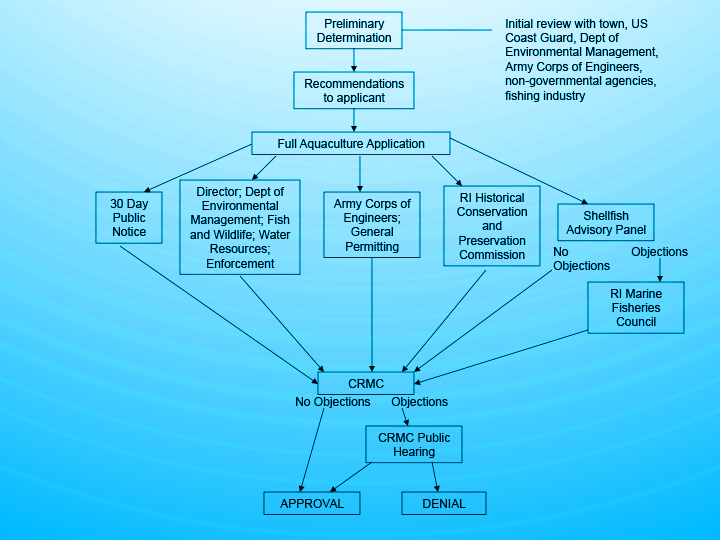 Once the recommendations are done and the PD is complete, the applicant decides whether to proceed or not. The total time for preliminary determination process is approximately three months, Beutel said. When a formal application comes in to CRMC, it is sent to all of the parties participating in the preliminary determination and is noticed for 30 days and any member of the public can comment during that time. If the CRMC receives a substantive objection, it triggers a public hearing before the CRMC Council. During this staff review and 30-day public notice, other state and federal agencies are also evaluating the application, Beutel said. After all of the external reviews, Beutel writes his staff report, either recommending approval (with stipulations, usually), or deny. It goes before the Council for a decision, and then there is an additional 30-day waiting period, during which time objectors can appeal. Total permitting time can vary widely, Beutel said.
"We have some that have been out[standing] for two years because there are a lot of objections and we're working through the issues," he said. "Usually it takes eight to nine months to complete that…part of it. So really, [for] someone from their first application to final decision is just slightly more than a year."
After permitting an aquaculture farm, the CRMC conducts oversight at least once a year to ensure compliance, Beutel said. It's difficult, though, for him to visit the state's 81 farms. In the coastal ponds, there is a five percent maximum allowed for aquaculture in each, which Beutel likes to call the 95 percent rule (the amount of the ponds that are available for all other uses). Fifty percent of the leases are in Narragansett Bay, he said.
One town official asked why polluted areas were included in the five percent rule. Beutel said that the regulation was for the entire pond, and areas closed are often moving, and are also open to other uses.
Social carrying capacity
Rheault said that the science actually supports a 45 percent carrying capacity for oyster aquaculture, and that regardless of whether certain areas are closed or not, it has no impact on the carrying capacity of the species or the ecology of the ponds. A few of the town officials present relayed complaints that aquaculture leases preclude other recreational uses in those areas, made even more restricted when certain areas are closed due to pollution. Others were concerned that aquaculture activities had replaced clamming.
Matt Griffin of Roger Williams University's Center for Economic and Environmental Development, said that while aquaculture is not the answer to ridding our coastal ponds of excess nitrogen, the industry was a tool in the fight.
"The take-home is…[oysters] provide good filtration capacity and fish habitat to the local environment." He said. "And we're not going to probably ever get close to the ecological carrying capacity so really, it becomes an issue of fitting them (aquaculture) into the social fabric of our towns."
For more information on aquaculture in Rhode Island, go to http://www.crmc.ri.gov/aquaculture.html.