CRMC welcomes new aquaculture coordinator
July 15, 2020, WAKEFIELD — The Rhode Island Coastal Resources Management Council (CRMC) has welcomed its new aquaculture coordinator, Benjamin Goetsch, who fills the vacancy left by David Beutel, retired at the end of June 2020.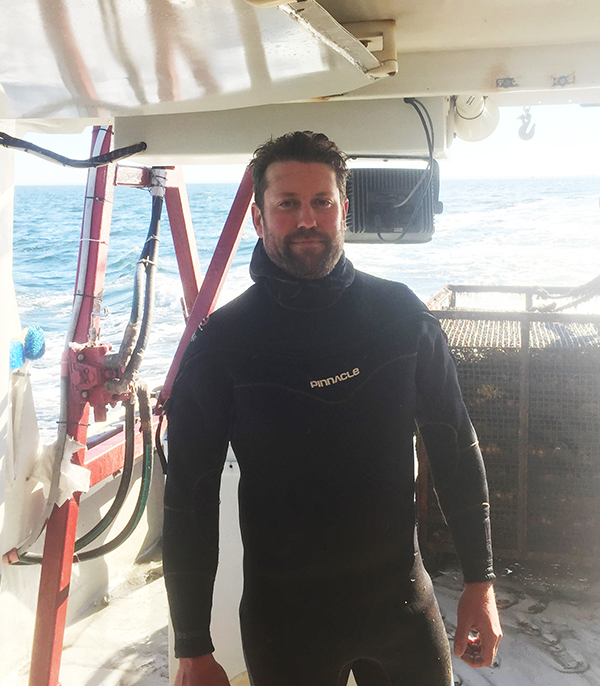 Goetsch found his journey to aquaculture a long and winding path, but those often make for the best stories. He grew up in the Stony Creek area of Branford, Connecticut, and spent most of his time on small boats around the Thimble Islands, which have a rich history of shellfishing.
Brown University and the study of archaeology brought Goetsch to Rhode Island in 2001, and as a student archaeologist he worked in Pompeii and a Roman hilltop settlement in Northern Portugal for a few seasons. After finishing his undergraduate degree in 2005, Goetsch got involved with the Black Sea Shipwreck Research Project run by the University of Kiev, and he worked on excavating a Byzantine wreck off Crimea's coast for three seasons.
During his time off from excavations in Crimea, Goetsch started working at a dive shop in Warwick. Filling tanks for quahoggers, Goetsch said he realized aquaculture (clams) presented a way to supplement his income, and he got a license to harvest steamers and clams.
"What started as a side gig soon turned into a way of life for me and I continued diving for clams, up to the point I decided to go to Law School at Roger Williams University and pursue a joint degree in Marine Affairs," he said. "There I followed my passion for shellfish-related issues and soon discovered that shellfish aquaculture was a rapidly expanding industry."
Goetsch worked on shellfish aquaculture issues for Save The Bay as a legal intern, and as a law fellow for Rhode Island Sea Grant. His research brought the Connecticut native into contact with many of the oyster farmers in Rhode Island's salt ponds, and he spent a few years working on the water for various companies during and after the pursuit of his Master's in marine affairs at the University of Rhode Island, which he got at the same time as his JD from Roger Williams University. Goetsch found himself back in Connecticut five years ago, where he found employment working for different aquaculture and fishing companies, though he's maintained his Rhode Island ties – he's been involved with the East Coast Shellfish Growers Association for many years.
As to why the position of Aquaculture Coordinator appealed to him, Goetsch said, "This job has appealed to me from the first time I met Dave (Beutel) while attending Dale Leavitt's practical shellfish farming course while I was at law school almost ten years ago. I was impressed by Dave's knowledge and approach to permitting and conflict resolution. As an aspiring JD/MMA with a passion for aquaculture, I could not think of a better job to aspire to.
"I have observed Dave's conduct in his position and I will strive to maintain the professionalism he has brought to the job," Goetsch added. "I also bring to the job a deep understanding of the industry and the challenges it faces. I have worked on farms, nurseries, driven deliveries, shucked at oyster bars, and bought and sold oysters wholesale for many years. There is not an aspect of the oyster industry I have not had experience with and I hope to use that knowledge to guide the future evolution of RI's aquaculture."
David Beutel joined the staff at the CRMC in April 2009 as the new aquaculture coordinator. As a former URI Fisheries Extension Specialist and Fisheries Operations Supervisor, commercial fishermen and gear manufacturer, and fisheries outreach researcher for Rhode Island Sea Grant, Beutel brought a unique skill set to the position.