CRMC RI Sea Grant celebrate 2020 Coastweeks with a twist
October 13, 2020, WAKEFIELD – The Rhode Island Coastal Resources Management Council (CRMC) and Rhode Island Sea Grant and the University of Rhode Island's Coastal Resources Center are taking a slightly different approach to fostering awareness, understanding and improved management of the coast through this year's Coastweeks 2020 celebration.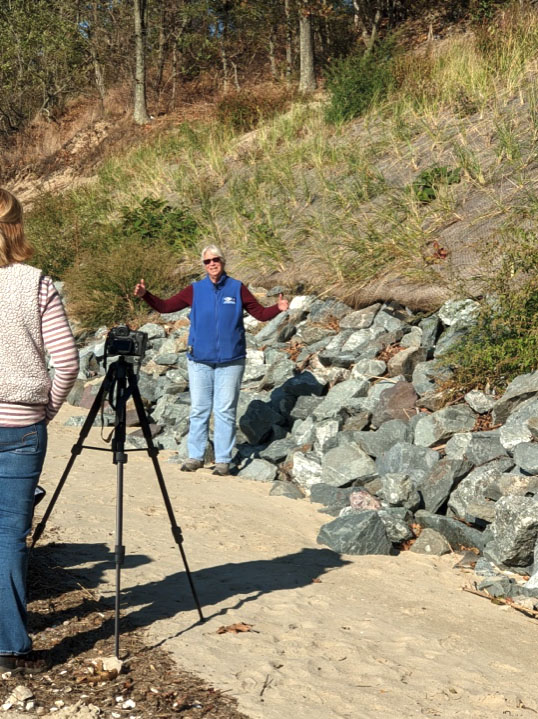 Usually, Coastweeks is a hands-on, in-person celebration of the coast, but living during COVID-19 means getting creative. The CRMC, RI Sea Grant, URI, and Clean Ocean Access planned socially distanced outdoor events like trash cleanups, aquatic invasive species monitoring/training, and trash skimmer tours, as well as virtual events.
On September 26 and October 9, CRMC's Marine Resources Specialist Kevin Cute conducted aquatic invasive species monitoring at Allen Harbor Marina in North Kingstown, and at Point Judith Marina in Wakefield.
The CRMC has been monitoring for aquatic invasive species since the Rhode Island AIS Management Plan was approved in 2007 by the federal Aquatic Nuisance Species Task Force. The plan supports long-term monitoring for AIS in the state's marine ecosystems and provides for actions to prevent the introduction of AIS, control their impacts, and eradicate those already present whenever possible. The plan encourages an Early Detection Rapid Response (EDRR) network that includes monitoring and an organizational framework to provide resources to minimize impacts of invasives. Cute and his volunteer monitors visit sites all over the state, and record their findings as part of this effort. For more information on the CRMC's AIS monitoring and plan, go to http://www.crmc.ri.gov/invasives.html.
On October 3, Clean Ocean Access held a beach cleanup at Island Park Beach along the Sakonnet River in Portsmouth. A virtual tour of Portsmouth's Common Fence Point on October 7 offered information on this neighborhood and how it's facing issues of sea level rise, flooding, stormwater, and invasive Phragmites. Residents and experts from the CRMC, CRC and RI Sea Grant, and Save The Bay took attendees on a virtual tour of four different sites on the peninsula and discussed concerns, as well as actions residents can take to address these coastal issues.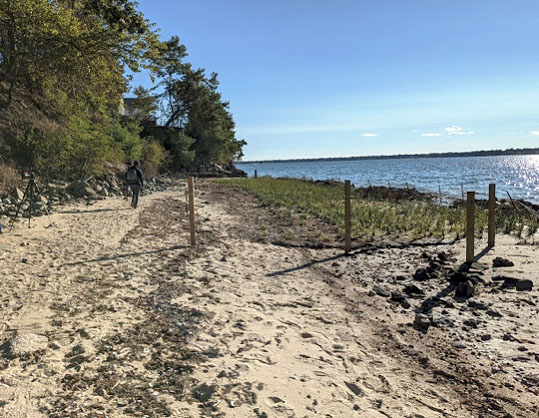 Attendees joined Clean Ocean Access again on October 10 for a Sachuest (Second) Beach cleanup in Middletown, near the wildlife sanctuary. And on October 14, the City of Newport and Clean Ocean Access offered attendees the opportunity to see a trash skimmer, which cleans up marine debris to improve water quality and overall environmental concerns. The tour included information on how the skimmers work, what kind of debris is commonly collected, and what participants can do to reduce waste entering water systems.
The CRMC and Rhode Island Sea Grant are also working to produce an information video on the recently completed Rose Larisa Park shoreline adaptation project in East Providence. For this pilot project, the CRMC and its project partners constructed two different hybrid shorelines to examine how they might slow erosion on the area's steep coastal bluffs at the park. The project included two phases using different shoreline treatments, and is part of a larger regional project in New England coastal states designed to analyze different nature-based infrastructure used for erosion control. The project was funded through the National Oceanic and Atmospheric Administration's (NOAA) Coastal Resiliency Fund.
Phase 1 of the project included construction of an intertidal stone sill, consisting of three low stone structures that will be topped by seawater at high tide, and about three feet high at low tide. Sand fill was added landward of the sill and planted in order to create saltmarsh. Phase II was a bluff treatment that uses stone at the base and logs made of coconut fiber farther up the slope. The bluff was planted with native vegetation. Details will be forthcoming concerning the video, and it will be available on the CRMC web site.
For a full listing of the Coastweeks events, click here: https://seagrant.gso.uri.edu/special-programs/coastweeks.