CRMC, RI Sea Grant continue shoreline public access summer series with Bristol ROW tour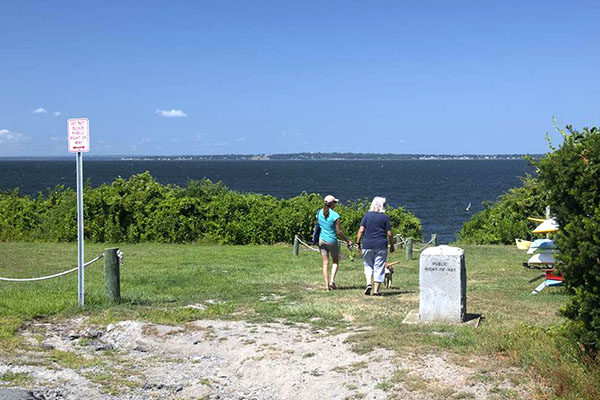 August 10, 2022, BRISTOL – Not even a torrential downpour with thunder and lightning could keep people from gathering at a few of Bristol's shoreline public access points to learn about the town's rights-of-way program and partnership with the R.I. Coastal Resources Management Council (CRMC).
The walking tour was part of the CRMC and Rhode Island Sea Grant's (RISG) second year of webinars and events this summer aimed at informing the public on issues related to shoreline public access in Rhode Island. The first, a June 22 webinar titled "Learn About Public Shoreline Access in Narragansett," featured Cinna Zerquera-Martin, chairman of the Town of Narragansett's Coastal Access Improvement Committee (CAIC), and Jesse Pugh, Narragansett town council president.
For the August 9 walking tour, Leah Feldman, CRMC policy analyst, Bristol Harbormaster Greg Marsili, and Nate Vinhateiro and Janet Freedman - formerly CRMC's coastal geologist – both at the URI Coastal Institute, planned to take attendees to four CRMC-designated rights-of-way, but the weather had other plans. Halfway through the tour, attendees and speakers ran for cover as rain soaked them and lightning flashed directly overhead.
Freedman and Vinhateiro showcased their recently completed update of CRMC's GIS rights-of-way database and demonstrated to the group of approximately 20 people that each of the points on the GIS map included photos of the CRMC ROW, its designated letter and number, its physical location, and the designation file.
Marsili told the attendees that the town has renovated stormwater filtration at one of the rights-of-way using green infrastructure for water quality improvements. He also pointed out the town's granite markers at each of the CRMC-designated ROWs and commented that the town has made shoreline public access a priority. A major component of that effort, said Feldman, is the partnership between CRMC and the Town of Bristol.
"CRMC works closely with many of the coastal municipalities to designate more shoreline public access through our program," she said. "Because the towns own the rights-of-way, we rely on them to assist us in designating them as CRMC ROWs. As you can see, the Town of Bristol places great importance on shoreline access, and because of that we've been able to designate 30 rights-of-way here."
These talks organized by the CRMC and Sea Grant are part of a larger effort to improve shoreline public access, awareness, and education through opportunities like the webinars, and in the future, improved signage and infrastructure, branding and messaging. The CRMC is also working to designate more rights-of-ways in locations throughout Rhode Island, including underserved and urban communities.
Check the CRMC web site for additional information and resources pertaining to shoreline public access - www.crmc.ri.gov/publicaccess.html, as well as www.shoreline-ri.com.