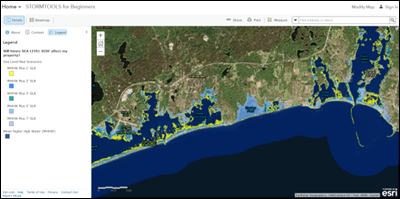 STORMTOOLS is a method to illustrate and display storm inundation, with and without sea level rise, for different types of storms that could occur along Rhode Island's coast line. The mapping application is available in two forms, Beginner and Advanced.
Find out about the SCIENCE BEHIND STORMTOOLS.
STORMTOOLS for Beginners is a one-map stop for all residents of Rhode Island to better understand their risk from coastal inundation.  This map allows you to enter an address in Rhode Island, and get answers to 3 questions about your property:
Is my property vulnerable to STORM SURGE?;
How DEEP will the water be on my property during a 100-year (1% chance) coastal storm?; and
Will projected SEA LEVEL RISE affect my property?
Advanced STORMTOOLS provides a series of maps that illustrate what coastal flooding could look like in the future under different storm scenarios. It enables Rhode Island's municipal officials and decision makers to better understand their risk from coastal inundation.
These maps provide information on flooding impacts from storms and sea level rise, show the extent and depth at any given point for nuisance floods (1,2,3,5, and 10 year recurrence intervals) and the 25, 50, 100, and 500 year storm scenarios at the 95% confidence interval.
About the STORMTOOLS data:
STORMTOOLS is accessed online through ArcGIS.com and can be used by anyone – there is no need to download any software. However if you are interested in downloading the actual shape files, they are available on RIGIS.
STORMTOOLS is intended to illustrate the predicted level of inundation due to storm surge and sea level rise.  For the latest estimated relative sea level change projections Click here to go to the Sea Level Change Curve Calculator by the US Army Corps of Engineers.